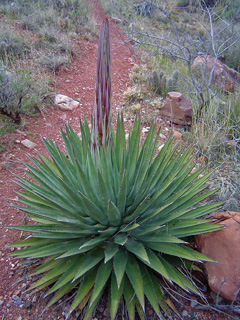 2007 - Agave just getting started.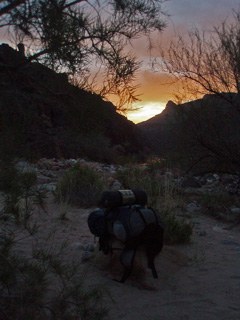 2009 - Sunrise at 94 Mile Canyon.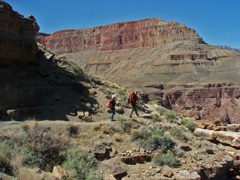 2013 - On the way to Hance Canyon.
In 1993 Neil Jacobs and I did a ten day hike from Nankoweap to Phantom. This was our tenth, and final, day. Since we got to the campground late, we took the very last spot, by the bridge (but, closest to the ranch). Here is a photo of our spot that morning as we packed up and hiked up the South Kaibab to the rim.
In 2007 I did a six day with Bill Ferris to Clear Creek. This was our second day and we hiked from the BA campground to Clear Creek. We saw quite a few young agaves, like the one shown here, that were just starting to send up their stalks. I wrote up a full account here.
In 2009 Bill Ferris, Chris Forsyth, John Eastwood and I started a nine day hike down Crazy Jug and over to Phantom Ranch. This was our eighth, and my last, day. We left from 94 Mile Canyon, shown here at sunrise, with my pack all ready to go. But, shortly after starting up the ravine that leads to the Tonto I fell and badly bent my foot (which seemed quite odd given that I was wearing boots!). It took hours to reach the plateau with everyone's help. I wasn't getting any better and really could not even walk. So, Chris activated the 9-1-1 button on his Spot and an hour later I was on a helicopter headed for the South Rim Village while Bill, Chris and John continued for another two grueling days (partly due to being many hours behind schedule due to my accident).
In 2013, Bill Ferris invited me to join him and his son Matthew on a seven day hike of the Escalante Route from Tanner to Grandview. Surprisingly, this was my first time over the whole route. This was our sixth day and we hiked from our camp on the Tonto Trail up into Hance Canyon where we camped at the creek. Here Bill and Matthew chat up their dinner plans as we worked our way into Hance.
In 2015, Bill Ferris, John Eastwood and I started an eight day hike with the intent of getting to Asbestos Canyon. This was our eighth, and final, day. We left our camp on the ridge at Zoroaster Canyon, shown in the photo. It was a long day and we hiked along the Clear Creek Trail to Phantom and up the South Kaibab Trail to the rim.