Day 1 - Down the Tanner Trail and a mishap on the river (Friday, March 9) - At the start of the hike my pack weighed 37 pounds. That wasn't bad, but I had 15 pounds cached at the river that would have to be added in. Partially offsetting this was a cache I would leave at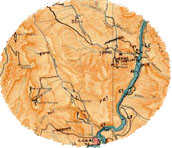 the top of the Redwall, for our return - a liter of water and some food. We arrived at Lipan Point at 6:45 a.m. and were on the Tanner Trail fifteen minutes later. At the parking area I noticed that my watch wasn't working. So it goes. I figured I could rely on my phone for the trip. One thing I am bringing with me is a copy of Harvey Butchart's map showing his hikes through this section (shown to the right; click for a larger image).
We are also bringing our Kahtoolas as there is still snow of the top sections of this trail. We only hiked for about an hour before we cached these just a bit above the 75 Mile saddle. Our coats stayed on for a few more minutes, until we got into the sun. It was just past 9 a.m. when we passed the giant rock where I often cache water. We had beautifully clear blue skies and the temperature was quite pleasant.
We reached the top of the Redwall descent at 10 a.m. and took a twenty minute break. A half hour later we were down below the Redwall on the small saddle. The trail does some contouring and descending until you are on a ridge in the Bright Angel shale, atop the Tapeats. I refer to this stretch as "Tanner's backbone," as a reference to the one named for John D. Lee at Lee's Ferry. We took a short break here and then continued on our way. At, or near, the bottom of the descent through the Tapeats there is a wide bend in the trail where we stopped at noon for lunch. Someone's cache a bit downhill from here had been totally pulled apart and ripped up. Probably the ravens. Bill and I call this the "World's Smallest Cairn" site because that's exactly what we made here (I think that was on the previous trip).
We only spent a half hour on lunch and were on our way by 12:30 p.m. At 1 p.m. we were on a saddle where we left the trail and descended to the west, down to the river level. As we got near we found ourselves on a short segment of the Escalante route. I've done this shortcut now five times and it never goes the same way twice! It was only another half hour to our kayak cache and thirty minutes after that, at 2 p.m., we were ready to launch our way across the river.
We decided that it would take two trips to get all our stuff across the river. Bill left his camera set up on its tripod, poised to automatically snap some photos as we crossed. Besides the two of us we had our packs and I had an additional dry bag, which contained my phone, camera, wallet and other items. That was a good thing, as about two-thirds of the way across we hit an eddy (so we came to find out later) that rolled us right over!!
I can still remember splashing into the river and being able to see a light green aura to the water. As I surfaced I looked briefly around, mostly in a state of panic, although both of us were wearing PFDs. Bill was holding onto the overturned kayak and was some ten feet away from me (as best I can judge these things). And, he was further out into the river while I was closer to the shore. So, I started to make my way to the shore, although with the paddle corded to my wrist that was not easy. As I got out I saw Bill heading the same way, but holding onto the kayak. I walked into the water and extended my paddle out so he could grab it and I could pull him in the last few feet.
We were on some nice flat rocky ledges. By some miracle Bill's pack was floating in the water under the kayak!! My pack was also floating in the water but a ways away. But it was caught in the eddy and making a looping arc towards our position. I was able to get out just far enough into the river to snag the pack and drag it onto the rocks. Was it heavy! The thing was quite waterlogged and it may have only been a couple of more minutes before it sank.
During this time I saw my dry bag. It too was caught up into the eddy, but unlike the pack it got into the slower channel that went behind an island. We were right next to this channel and I raced down alongside the cliff here, where there was just the hint of a route in an attempt to intercept the bag. I kept my paddle, thinking I might need to use it to hook the bag. Well, miracle #2 occurred as that's exactly what happened. I reached a spot where I knew I was ahead of the bag, found a spot to get to the water and partly waded out until the bag came by and snagged it. I returned to where Bill was and promptly plopped down, exhausted. Taking stock of our situation we only lost three things in this mishap - Bill's hat, his notes and map, and one of the inflatable seats for the kayak. [Bill snagged the other seat while I was down trying to get my dry bag.] So, I guess that's why I brought two hats on this hike!!
Well, I hardly knew what to do except to take stuff out of my pack and try and dry it out. We still had stuff on the other side of the river, but my confidence level for using the kayak was pretty much at zero. But, it was only about ten or fifteen minutes later that a river party came by. We flagged them down for assistance. It was this guide that explained the situation with the eddy and schooled us on what we should have done. I was quite willing to hang it up on this hike and ask them to ferry us, and our stuff, back across the river. But, one of the people in this group was a park service ranger and seemed quite unwilling to do anything that involved giving us a lift. The best they would do is go across the river, gather up all the rest of our stuff (tents, boots, food caches and Bill's camera) and then bring it over to us. Well, that was OK with me, as I mentally started calculating how long it would take to hike the north side of the river to Phantom Ranch where we could cross on over the bridge and hike up to the South Rim.
The sun had already set on our little spot, making it impossible to dry anything out fully. We decided to load up the kayak and cruise down the slow channel to the end and find a spot to unload our gear and find a place to camp. That went well, although Bill had to paddle back up the channel for the rest of our gear while I improved our little landing spot. We found some great camping spots atop a small bluff here overlooking the river and with more pot shards laying around than I have seen anywhere else in the canyon.
We tied up the kayak at our "port" and busied ourselves setting up camp. The sun had set on us and we were eating dinner as it got dark. At 8:50 p.m. I turned in and was quite pleased that there were only a couple of damp spots remaining on my sleeping bag.