The climb up to the saddle (between Saddle Mountain and the North Rim) is not insignificant - 1000 feet, give or take a few feet. The trail crosses back and forth across the bed, usually where the water is in standing pools, as opposed to flowing. Then, you start to climb out, already amongst the pine trees. The terrain is fairly rocky, with not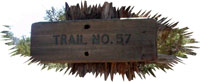 much in the way of soil cover, and there are places where the manzanita is quite thick, discouraging one from wandering away from the trail. Technically, this is "Trail 57" and it climbs all the way to the North Rim. The Nankoweap trail starts at the saddle, but you have to hike in on Trail 57 to get there. So, most people probably just think of this as part of the Nankoweap trail. The upper trailhead is only accessible during the summertime, when the North Rim is open. Even then, it may be impassable in the early summer if there was a lot of snow over the winter. The lower trailhead is accessible all year, although being north facing, it can be deep with snow in the springtime. We saw only a small patch on our way up, but once we reached the saddle, we saw lots of snow higher up on the North Rim.
We covered this ground quickly, reaching the saddle at 3:05 p.m. with plenty of time to set up camp, relax and have dinner. We had given some consideration to pushing on and camping at Marion Point. That would have put us off of Bill's permit, but sometimes you have to make a judgment call on these matters. Given that he ended up suffering from some heat exhaustion the next day, that might have made the difference! But, we were aided in this decision by seeing a group of six hikers just a short distance down the trail, starting to contour over towards Marion Point. It only takes about an hour, and they may have decided to go further, but we didn't want to have to crash their party, if that's where they decided to stop.
Temperatures here were on the cool side. Once our packs were off, we were both wearing jackets, even in the sun, to keep the chill at bay. And, we had lots of bugs flying about, until things really cooled off at sunset. So, I hopped into my tent to rest a bit without the bother of bugs checking out my ears, eyes and nose! I had a sudden flash of insight and called out to Bill, "Hey, I've got a definition of 'home.' Home is where you can lay down." It seemed to me that the idea that you can totally relax defines home. There is something about laying down on my sleeping bag in my tent that makes me totally relaxed in a way that is just like home. [By way of contrast, staying at a hotel does not make me feel at home. Maybe it's just me.]
We had fantastic views from here. We could see much of the Nankoweap area, lots of the North Rim, the Little Colorado River canyon and even the Desert View Watchtower (with a pair of binoculars). The setting sun lit up the sky and we both enjoyed this fabulous light show. To top it off, a big, nearly full, moon hung in the sky as if to put an exclamation mark on the day. We had our dinner at about 6 p.m. and I brought along a couple of special treats - two small plastic bottles of wine to celebrate the start of Bill's trip and some brownies for dessert, which were so good that I may just do that again some day! By 7:30 p.m. it was dark and cold and we both turned in for the night.