As we scampered into a suitable spot for lunch, I did spy the rock cairn I was looking for. We'd save that for after our lunch break. But, from our shady spot, we could also see the big rock cairn on the north side of the river, west of Asbestos Canyon. I saw it up close and personal twenty-plus years ago, and it sticks out in my mind because it is huge and it is very well constructed, like the cairn above Elves Chasm far to the west. But, for some reason, I must not have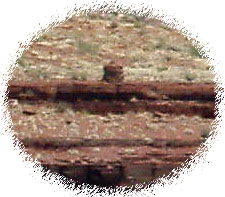 taken a picture of this cairn, when I was there. At least, I can't find one in my collection. But, my collection has a distinctive haphazard quality about it, so maybe there really is one there . . . The best I could do from our current vantage spot is the photo to the right. Click on it to see the big picture view with the cairn's location highlighted. This cairn is along a very well constructed trail that leads to Hance's various mines. Exactly what it marks, I don't know. In Harvey Butchart's trail logs, he often would mention "miner's claims" which I take to mean a rock cairn. Perhaps that is the purpose of this well-built cairn.
By 3 p.m. we were finally getting some cloud cover. We had seen clouds over the north rim, and rain falling to the west. We had rested up well, and while we were a bit short on water, I was sure that we'd be fine for the hike to our water cache. Up to this point, I had been drinking freely, without concern for my inventory. But, now that I could see that I only had about a half liter left, I would be a bit more stingy, at least until we reached the top of the Redwall. Bill still had the better part of 2 liters, and parted with a half liter of Gookinaid, which I downed before we left our Tapeats ledge.
We wandered over to the cairn that marks a trail which descends below the Tapeats, and then contours over into the Hance area before disappearing. It is marked on the old Matthes-Evans map. I found this trail many years ago, and from its end, followed a steep, rocky chute down to the foot of Sockdolager Rapids. The construction had held up well over the years. But, we didn't have the time to follow the trail on this trip. For lack of a better name, I call this the Sockdolager Trail. It doesn't really reach the river, but it does afford fine views. It is quite an odd feeling to tramp along the meager Tonto Trail, then to bushwhack across the plateau, and suddenly end up on this fine, although short, trail. As it turns out, there may have been two large cairns here. Only about 20 feet away from the one in the photos I've posted, is a distinctive pile of very large rocks, probably a couple of feet high. Either the original cairn was rebuilt, or there were two here at one time - to serve as a gateway for this trail I suppose.