Unlike the trail, the road is in absolutely horrible shape - rocky and lots of ledges over the last mile, or so, to the trailhead. Just before reaching the trailhead parking area, a gash in one of Mark's tires quickly flattened a tire. At least they were at the trailhead, so it wasn't blocking the narrow road! Kathy and Keith tried changing the tire, but one lug nut was frozen on. When we reached the rim, we had no success at dislodging the nut either. Thankfully, we took two vehicles, which, in retrospect, I should have changed to just one! It is a good thing that I don't always work this stuff out! [We were taking two vehicles because, as of Friday evening, only Mark, John and I were going. Once we got Kathy and Keith for day hiking, I didn't realize we didn't need both vehicles for the car shuttle.] So, the five of us piled into my Toyota Xtra Cab, with gear tied down in the bed, for the trip back to Flagstaff. I reached home at midnight, after a very full day!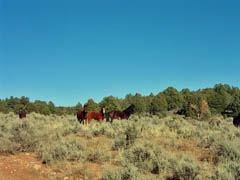 On Sunday, I drove Mark back up to the trailhead to retrieve his vehicle. We left just after noon, and the weather was great - beautiful blue skies. We saw a coyote along the dirt road to Pasture Wash, and a large hawk. After crossing into the national park we came across five horses roaming around. I can't imagine they are really wild, but if they're in the park, presumably their owner has lost them! Mark brought along all kinds of tools to do the job on the cantankerous lug nut. But, even with an air compressor and an impact wrench, that nut wouldn't budge. So, a patch of the gash had to suffice, and it held up all the way back to Flagstaff.
I have written about one problem with accessing the South Bass trail - the road doglegs through about three miles of Havasupai land. The posted sign states that the "entrance fee" is $25. Since you are using a road that was maintained by the Forest Service (and still may be) and that provides access to the national park, this is a textbook example of highway robbery. Indeed, you aren't paying for anything but the right to drive three miles down the road to re-enter the Kaibab National Forest, and, then, the Grand Canyon National Park. I might be a little more sympathetic if the money was being used, at least in part, to improve the road, but, clearly, that is not the case. Well, nobody was there to demand money from us - I suppose that the traffic is just too scarce to make it worthwhile for someone to sit there at the gate. I will urge our local Congressman to earmark funds in the next pork-barrel transportation bill to reroute this road so that stays outside the reservation boundary.