At 12:36 p.m. I was on my way. An hour later I had a terrific view of the river. I figured I was pretty much directly below the Watchtower. Fifteen minutes later I was starting to turn the corner into the bay and was following a pretty decent path marked by the occasional cairn. An hour and a half after leaving my lunch spot I was in the bed of the big bay and ready to take a second lunch break, which lasted nearly an hour, until 2:56 p.m. I had started the day with four liters of water and as I left this latter lunch spot I still had two left.
Going up this bay I found absolutely no signs of a trail or even a faint route to follow. I just slowly worked my way up as best I could until I reached the ravine that comes down from the east that will take me up to the rim. Along the way, a ridge that separates the two main ravines in this bay looked like a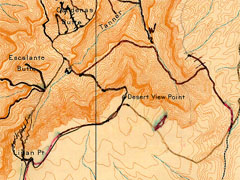 possible route to the rim. At the very top it looked like you might have to wend your way to the east a bit to reach the top. But, I really wanted to find signs of the old trail, so I stuck to my plan.
As I headed up the exit ravine, I could see that it was going to take me all the way to the rim. But, it was very steep and rocky with poor footing. I topped out at 4:42 p.m. and was huffing and puffing - when there is no path to follow I tend to just head straight uphill! And, there was no path to follow. Nor were there any cairns I saw along the way. Even at the rim, where there wasn't much leeway in where one comes out, no cairn or other sign of this being the old route.
I am reasonably sure I was in the correct spot, but may have to look into this some more. The map to the right is Harvey Butchart's map that is available from the Cline Library at Northern Arizona University. It shows the water pools (the "W") east of Escalante Butte and his route into the bay and out the east side, which is what I did. In his book, Harvey wrote, "All but the top hundred yards are gone. However, with careful route-finding, one can still follow the old trail." Well, maybe today, even the top hundred yards are also gone! As grinding of a haul as it was, I still had 1.5 liters of water when I reached the rim.
Another source of info on this old trail can be found in Wayne Tomasi's Grand Canyon Hiking Adventures. He writes that there is a big cairn on the rim where the trail begins, which I did not see. Still, he warns that whatever you see as a trail, "probably only exists in your imagination." He did this loop three times, but always from east to west. I would say that climbing up from the bay is much preferred to picking your way down that steep route.